Recently, I journeyed to Brazil on what quickly became one of the most fulfilling and culturally significant adventures of my life. Much of my time was spent exploring the beautiful city of Rio de Janeiro, from its epic panoramic views atop Sugarloaf Mountain, to the many cultural enclaves and colorful city landscapes. I fell completely in love with the rich cultural legacies that permeate every aspect of life in this South American paradise. Strong signifiers of African culture can be found in local foods, Samba dance movements, and traditional art forms such as Capoeira. Rio has taken center stage in the international arena as it hosts the 2016 Summer Olympic Games. As we all watch on while skilled athletes from all over the globe compete for highly coveted Olympic titles, I hope you all enjoy reading about my journey into Rio cultural life. If you haven't already visited this wonderful city, it's definitely worth the trip. Learn about the city's history, immerse yourself in the culture, and bask in the beauty of Rio life.
Journey Through Rio
Beaches of Rio
Rio is well known for its beautiful beaches, where stretches of white sand and turquoise waters collide with the vibrant city culture. I had the chance to visit most of the major beach destinations and embrace the unique ambiance that each one provides. Here's a brief overview of my favorite Rio beaches and what you can expect when visiting.
1) Copacabana
Located in the South Zone of Rio, Copacabana beach runs parallel to Avenida Atlantica and is one of the city's most popular beach destinations. In Copacabana, bustling crowds, parties on the beach, soccer, volleyball, and bare skin are all commonplace. Many high-rise hotels and crowded promenades populate the surrounding landscape. You'll find a little bit of everything in Copacabana. Food, clothing, and jewelry vendors are positioned along the entire beach. Head here to connect with friends, meet other travelers, or interact with the locals.
2) Ipanema
Just South of Copacabana, you'll find Ipanema beach. The neighborhood of Ipanema is slightly more upscale, yet still bustling with action. It was here that I witnessed firsthand why Rio beaches have the reputation of being "reveal all" destinations. You'll find women and men of all forms in the most baring bikinis and speedos, strutting along the beach, playing a game of soccer, or out for an afternoon run. Beachgoers often enjoy water sports, tanning, and shopping with the local vendors that frequent the shores. The massive waves serve as a main attraction for surfers. Enjoy all the action here while absorbing the local culture and appreciating scenic mountain views in the distance.
3) Leblon
Leblon is one of Rio's most affluent neighborhoods. The local beach has a very calm and peaceful atmosphere. You'll find that it's not as populated compared to some of the other neighboring beaches. While soaking up the sun, you can enjoy drinks, coconuts, popsicles, and uninterrupted relaxation.
4) Barra da Tijuca Beach
Barra da Tijuca provides 11 scenic miles of beach, standing as Rio's longest stretch of beautiful ocean front. The beaches here resemble that of many Caribbean islands. The neighborhood itself is home to many of the 2016 Summer Olympic festivities. Although this beach is not centrally located near all of the main city attractions, many enjoy the seclusion and exclusive ambiance that it offers. You won't have to worry about dealing with massive crowds or noisy surroundings at this pristine Rio paradise.
Lapa district (Escadaria Selarón, mosaics, & street art)
The Lapa neighborhood will give you some of the most eclectic vibes that you'll see while in Rio. This vibrant, mosaic filled district is adorned with colorful street art, amidst the allure of popular bars, clubs, and lively venues that host local bands and musicians. The streets come alive at night, providing an exciting scene for both locals and tourists. During the day, you can enjoy a host of local cafes, restaurants, and vintage shops, along with the attractive neighborhood scenery. Lapa is truly a creative spirit's paradise. It is also home to one of Rio's most notable tourist attractions: Escadaria Selarón. Seeing this beautifully curated set of mosaic steps was one of my favorite experiences in Rio. Colorful ceramic tiles from all over the world were arranged so beautifully by Jorge Selarón to create this elaborate mosaic staircase and the surrounding art walls that enclose it.
Christ The Redeemer & Corcovado Mountain
Atop Corcovado Mountain sits the iconic Christ the Redeemer statute, standing as one of Rio's greatest marvels. You can access the top by traveling through Tijuca National Park by hike, van, or train. If you decide to hike, you'll have the opportunity to see animals that inhabit the dense forest terrain such as capuchin monkeys and toucans. The top of Corcovado provides one of the most beautiful views of Rio. The unique vantage point allows you to witness the intersection of costal splendor, flora rich terrain, and urban cityscapes unlike any other.
Sugarloaf Mountain
While in Rio, you must experience the sunset from atop Sugarloaf Mountain. You can see lovely panoramic views of the city from several different vantage points that are accessible via a cable car to the top of the mountain. You'll find many small monkeys running around in search of food and interaction with visitors while here.
Jardim Botanico
The Rio de Janeiro Botanical Gardens is filled with a plethora of exotic flora that collectively showcase the diversity of the city's plant life. It was here that I also basked in some of the most beautiful natural scenery, including the infamous Alley of Palms. You can spend hours getting lost in the various gardens, tree lined pathways, and miniature ponds that populate this massive area of scenic beauty. You are bound to see women baring their pregnant bellies at some point throughout your visit here, as this seems to be a popular destination for maternity photoshoots given the amazing ambiance. Truly a beautiful experience and one of my favorite places in Rio.
Parque Lage
While en route to Parque Lage, we were told the beautiful love story of Enrique Lage and his wife Gabriella Besanzoni. A wealthy industrialist, Lage had the stone mansion and surrounding garden that now serves as a public park, constructed as a birthday gift to his wife. The historic architecture remains intact and is a popular point of attraction for both tourists and locals. We visited the park twice simply to admire the intricacy of the building's structure and enjoy the walking trails through the forest that enclose the park.
Local Communities & the Favelas of rio
I first saw the film "City of God" in 2004 as a freshman in high school. This coming-of-age tale followed the lives of friends growing up in one of Rio de Janeiro's favelas, giving an intimate look at life inside of these communities. The film gained notoriety due to its vivid depiction of the widespread crime and drug wars that are often associated with the favelas. After the release of "City of God", I would spend much of my time watching documentaries and films that chronicled the lives of community residents, seeking more information about the children who lived in the favelas of Rio and the families that sustained while dealing with the surrounding conditions. It wasn't until I visited for myself years later that I encountered some of the most resilient, vibrant, and industrious spirits that I've ever met. The hundreds of favelas built all around Rio are home to a large portion of the city's population. They are centers of self-sustainability, entrepreneurship, community governance, and creativity. During my recent trip to Rio, I had the opportunity to spend some time in Rocinha. With a population of nearly 70,000, it is the largest favela in Brazil and the second largest in Latin America. We also traveled to Vidigal and Santa Marta. Over the past several years, efforts to pacify the favelas and regulate drug trafficking have resulted in an increased police presence on the outskirts of the community. Despite these changes, rarely do local authorities venture further into the dwellings to interfere with daily community life. The community governs itself and continues to find creative solutions to issues that the government neglects. Most public tours to many of the larger favelas are usually led by community residents, who invest the profits into community programming.
Accommodations
If you plan on venturing to the most popular attractions in Rio, staying in the South Zone of the city will be most convenient for easy pickup and transport by your driver. Most shuttles and car services for tours and airport transfers pick up and drop off in this general area. There are many great hotels along Copacabana beach that provide easy access to the shores and convenience for travelers. Many tourist also opt to stay in local condos or utilize AirBNB. Some of my top hotel picks are Windsor Palace Hotel, Pestana Rio Atlantica, and Windsor Atlantica.
Africa In Brazil: Rio CULTURe & art FORMS
I love traveling to regions throughout the African diaspora because I love seeing the beauty and diversity of the people. In Brazil, you'll find the largest population of African descendants outside of Africa. The first Portuguese slave ships arrived on the shores of Brazil in the 1500s, fueling what would soon be a vast sugar economy. You can still find the cultural traditions of the ancestors alive and flourishing in the spirits of the people. You hear them in the music, feel them in the movements, and taste them in the food. Everyday life is a celebration of culture and a testament to resilience. Below are several Brazilian cultural expressions and art forms that have deeply rooted ties to Africa.
Capoeira
Capoeira is a Brazilian martial art form with roots originating in Angola and the Congo. It was born as a survival tool and tactic by West Africans brought to Brazil during slavery in Portuguese colonial territories. Its history and form is linked to West African war rituals. Capoeira was practiced widely within Quilombo societies. These were settlements of escaped slaves and resistance groups that developed self sustaining villages in secluded regions of the territories. They typically settled in mountainous areas where they could not be found and recaptured by colonial troops. Everyday life in Quilombo societies provided freedom as well as the opportunity to reawaken cultural traditions that were stifled amidst colonial oppression. The communities constantly faced the threat of colonial troops. In these circumstances, capoeira became a survival tool, signifier of cultural resistance, and a skilled martial art.
Capoeiristas combine elements of acrobatics, dance, and swift movements, while playing in the roda to songs and music of native instruments such as the berimbau, atabaque, agogo, reco-reco, and pandeiro. The movements utilize speed, power, and leverage for a wide variety of kicks, spins, and highly flexible physical techniques.
While in Rio we met up with Grupo Senzala while they played capoeira on Copacabana Beach. This particular capoeira school was founded in Rio de Janeiro in the 1960's by Mestre Peixinho. We sang along and enjoyed the movements. This moment was undoubtedly the highlight of my trip. I practiced capoeira intermittently from the ages of 5-14 growing up in DC. It was so moving to experience the beauty of this powerful mechanism for revolution and historical resistance in its birthplace. Seeing how it remains an integral part of cultural life for many families and communities brought me so much joy. Capoeira brings communities together, fostering environments of joy, peace, and celebration both in the game and in life.
Samba
Carnival season showcases the beauty of samba dance and music in all its glory. If you happen to visit Rio during off-peak season, you can still witness the excitement of this Brazilian art that has cultural roots originating in West Africa. While in Rio, you can see a samba show and experience the rhythms, movements, and bright colors of Brazilian cultural expression come to life.
Candomblé
Candomblé originated in Salvador, in the Brazilian state of Bahia, at the beginning of the 19th century. Africans taken to Brazil during the slave trade brought their spiritual practices with them during the Middle Passage. These traditions have been passed down for generations. I remember first learning about Candomblé traditions from my mother, and studying them more extensively in my "Religions of the African Diaspora" class in college. To be in Brazil experiencing the beautiful impact that this spiritual legacy has had on so many African descendants was surreal. I spent some time during my trip reflecting back on an article I read in the post over a year ago, documenting the Afro-Brazilian religious struggle. I was dissatisfied to see that not much had changed with regard to the discrimination that members of these spiritual communities face in mainstream Brazilian society. Candomblé survived centuries of slavery, but the freedom to maintain these spiritual traditions still faces backlash amidst local prejudice.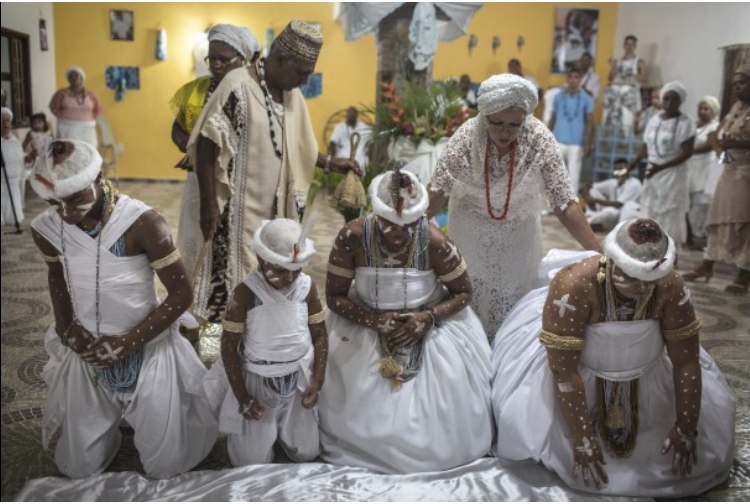 *Images of a Candomblé ritual ceremony in Rio de Janeiro, Brazil via

Lianne Milton/For The Washington Post
ON BEING A VEGAN/VEGETARIAN IN BRAZIL
For the most part, the typical Brazilian diet is very meat heavy. Many dishes consist of beef and poultry. As a vegetarian or vegan traveling throughout Brazil, your diet will likely be comprised of rice, beans, various tropical fruits, and the medley of veggies that restaurants offer. If you are staying in a condo equipped with a kitchen, you have the option of purchasing groceries at a local market and preparing your own meals.
On Copacabana Beach, we dined at a restaurant called Arab that offered traditional Middle Eastern dishes. I enjoyed fresh mint tea and a loaded falafel pita, along with a large bowl of lentils & brown rice. During the evenings, the restaurant offers typical dinner service, and during the day food is served buffet style.
STAYING SAFE WHILE IN BRAZIL
The city of Rio de Janeiro continues to have a reputation for high incidents of crime. Tourists are particularly vulnerable to street thefts and robberies in the evening and at night, especially in areas adjacent to major tourist attractions. Practicing proper caution and safety while traveling is highly advisable. Plan ahead, be aware of your surroundings, and try to travel with a friend if possible. For more detailed safety advisories, you can reference the State Department's website on traveling to Brazil. It contains a thorough list of provisions that travelers should take into account during their trip.
A Note on Zika
Zika virus is a mosquito-borne illness that can be spread from a pregnant woman to her unborn baby. Among other effects, there have been reports of a serious birth defect of the brain called microcephaly and other poor pregnancy outcomes in babies of mothers who were infected with Zika virus while pregnant. During our summer months in the U.S., Brazil is in their winter season. Resultantly, much of the mosquito population had died off by the time I visited. You are still likely to see mosquitos in areas throughout the forest and on the beach. Take the proper precautions by using insect repellents or a combination of natural essential oils. Try to avoid washing with sweet scented, highly fragrant body washes and lotions, as they are more likely to attract mosquitos. During my trip, I used Dr. Bronner's Pure-Castile soap in the Eucalyptus scent. I also tried to increase my intake of spicy foods and decrease my sugar consumption. Each day before heading out, I put on my Eucalyptus and Tea Tree essential oils. We also hung a Citronella grid up in our room, which proved to be very effective. As an additional defense, I brought stronger repellents, including Picaridin and Permethrin, along as well. I did not wind up using these as much as the oil blends, however (I prefer to stick to natural, plant-based repellents). By the end of my trip, I did not have a single mosquito bite.
For additional information on health advisories and zika, reference the Center for Disease Control and Prevention's website on travel to Brazil.
I hope that some of this information will be helpful to you guys as you plan your visits to Rio. Feel free to reach out should you have any questions, or simply to share your experiences in Brazil. Happy traveling!
Love & Light,
-Saína